So much fun yesterday at my Loteria Grande Cards Signing at Austin Books & Comics. Thanks to Brandon Zuern and the entire ABC team for the hospitality. Huge thanks to everyone who attended, including appearances by Michael and Linda Moorcock, C. Robert Cargill, Rick Klaw, John Worsham of Texas Lightsmith, Peggy Hailey, Kimm Antell, Lawrence Person, and many, many more. Austin Books now has a few of my signed Loteria posters and Grande Card sets available in-store — so get 'em before they're gone!
It's @JohnPicacio, signing his stunning Loteria Grande cards here until 4pm! Plus, posters & Game of Thrones prints! pic.twitter.com/7fHcPIaP4w

— AustinBooks & Comics (@AustinBooks) March 14, 2015
After the signing, I made the pilgrimage to Robert Rodriguez's Frank Frazetta Exhibit in downtown Austin. They don't allow photography inside (understandably), so I don't have onsite pics to share, but lemme just say that if you love great works of art or have any love at all for fantasy, this is one of the year's MUST-SEE art events. Why? Because these are only a few of the originals on display……deep breath……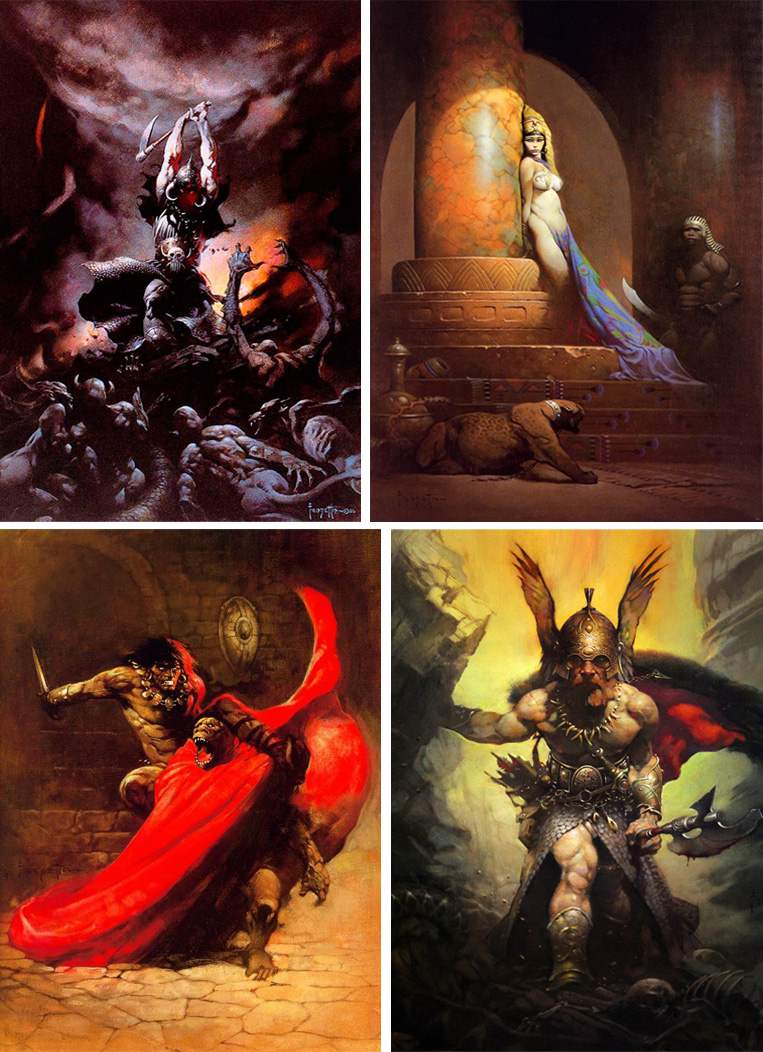 The Rodriguez exhibit doesn't just have 'some' Frazettas hanging on a wall (which no matter what, would be pretty cool). No — they've got some of the all-time GREATEST Frazetta paintings ever hanging on a wall. And if you've never heard the name Sebastian Kruger — you won't be forgetting it after you see a giant 6′ x 6′ painting like this on display. I won't even post his Keith Richards painting because it needs to be seen to be believed, and was one of my favorite works of the entire display, Frazettas included!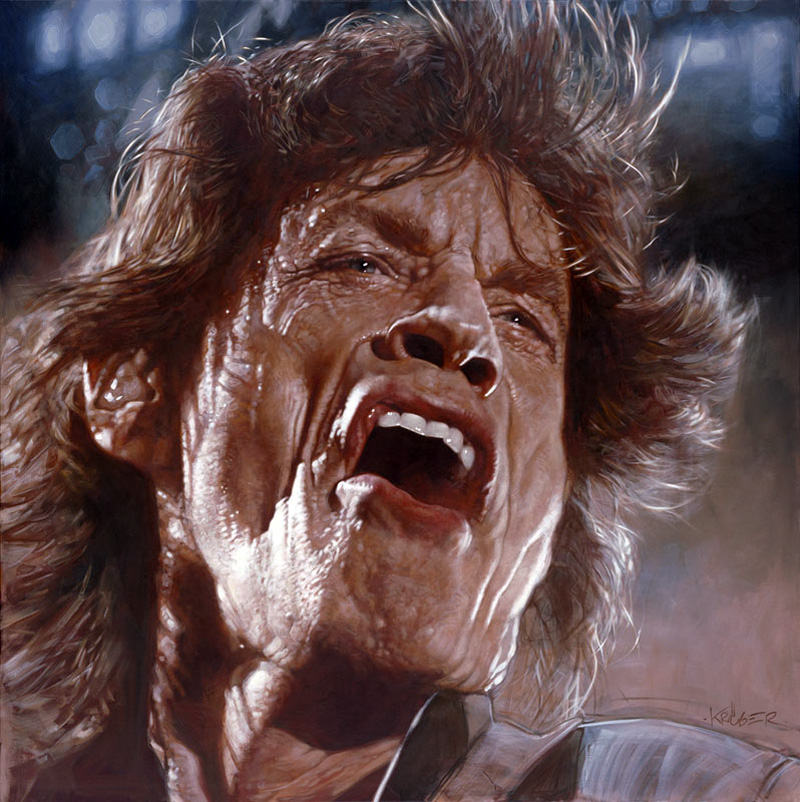 Add to that original Drew Struzan movie poster art, Frank Miller Sin City art, and George Yepes originals, and…..seriously, folks. Missing this exhibit means living with regret for your remaining years. Don't think. Don't stop. Just GO.
Enjoyed visiting with Nixon Guerrero of Troublemaker Studios while touring the exhibit. (Borges FTW!) Brought along a blast from the past with me, just for fun. Back when I was attending the University of Texas, I used to shop at a comic book store called Funny Papers. One day, circa 1991, I spotted stacks of compendiums for a comic strip called Los Hooligans, written and drawn by a guy named Robert Rodriguez. Never heard of him. I flipped through it, dug it, plopped it on my stack, and carried it to the register. The manager rang up my purchase, opened up the Los Hooligans book and said, "Oh hey. Congrats, man. You scored the free one." As fate would have it, Robert did an original sketch inside that single book with a note saying that the buyer received this copy for free. What were the odds? I've kept it all these years.
I attended UT around the same time as Robert, even though we never crossed paths. I graduated with my architecture degree, and went on to self-publish my own comic books, which led to my current career as a Hugo Award-winning science fiction/fantasy illustrator. Yesterday's signing, plus the exhibit visit, was rocket fuel, an energy boost for the career-expanding work I'm currently doing, but it was also a reminder of my roots — the Frazetta paintings, visiting with Worsham who knew me ages ago in my architectural intern days, seeing Michael, Linda, and Rick who were with me at the birth of my book cover career…..good times.
One last word on the Frazetta exhibit — it's located at 920 Congress Ave. and will be on display until this Saturday, March 21st. I think visiting hours are 12noon to 8pm. Make the time to see this, even if it means taking a day off from work, or driving a long distance to do it. Experiences like this are precious and few. So worth your time.
All proceeds from the admission fee of $10 (such a bargain!) and the limited-edition Frazetta giclees (gorgeous) are dedicated to the preservation of these artworks by the Frazetta family, as well as funding for a potential permanent Frazetta museum down the road.
Hats off to Robert, Nixon, and Troublemaker Studios for a first-class exhibition.