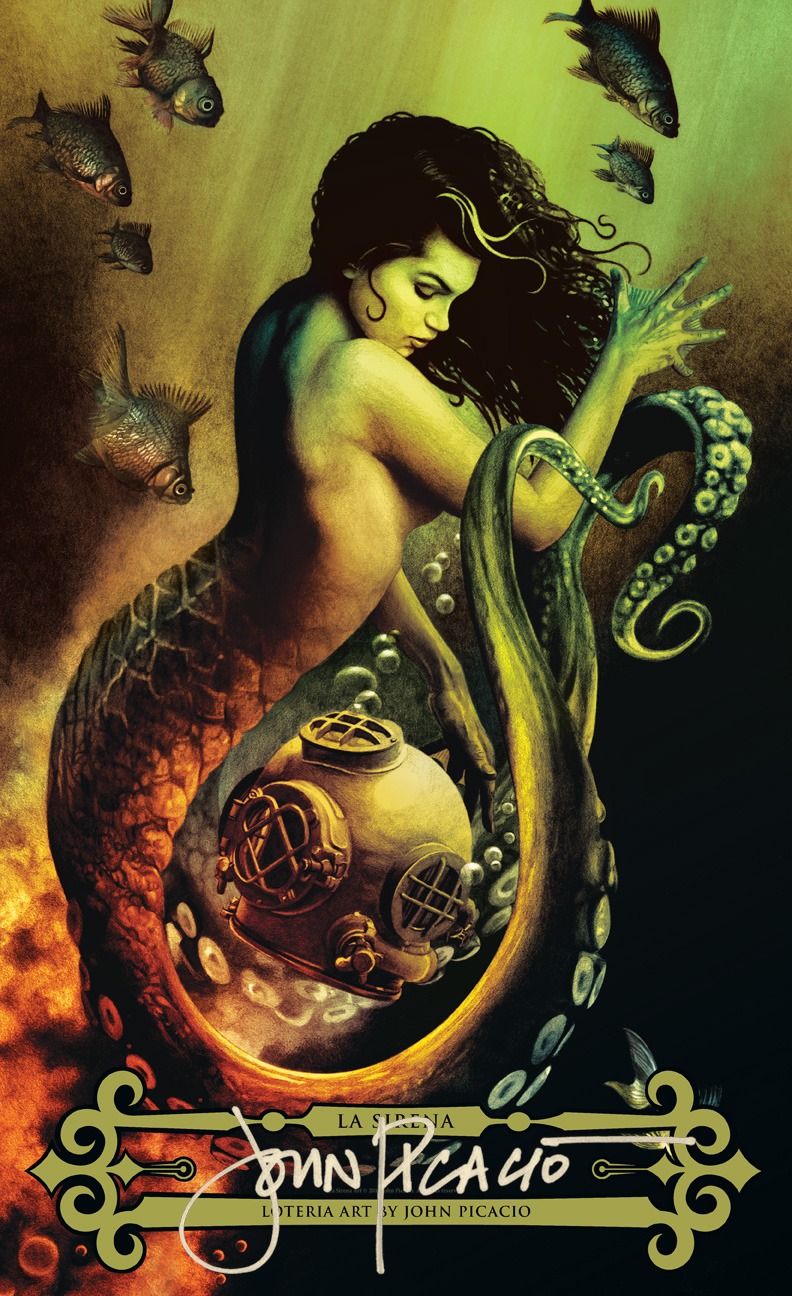 Ever since I first debuted my 'La Sirena' art, I've been getting tons of requests for her to be turned into a poster. Ask and ye shall receive, Loteria Lovers.
She is now the fourth official Lone Boy limited-run poster, joining "La Calavera", "El Corazon", and "La Luna" to be featured in a giant 11″ x 18″ format on thick card stock. There will only be 500 Sirenas produced.
SAN ANTONIO — the posters debuted last weekend at Dragon's Lair, but you have a second chance to score them this weekend, Friday May 13th and Saturday the 14th! I'll be appearing at Paper Trail SA 2016, located at Brick at Blue Star (108 Blue Star / 78204). I'll be signing 'La Sirena' posters, but there will only be fifty available, at the special event price of $20 each! Come get 'em, San Antonio — and check out over forty illustrators and print makers under one roof.
Friday's 'Night Market' is a pre-shop event, with advance tickets required for those who want to beat the Saturday crowds. (A few tickets still available, as of now.) Open 7pm to 9pm.
Saturday is Artist Market Day and it's free to the public. Open 11am to 6pm.
FOR THOSE WHO DON'T LIVE IN SAN ANTONIO — especially all members of The Lone Boy List — I've got you covered!
There will be a one-week online order window to purchase 'La Sirena' posters — as well as 'La Luna', 'El Corazon', and 'La Calavera' posters. Orders will be taken from Monday, May 16th to Monday, May 23rd via the Lone Boy shop. The single poster price will be $25, including shipping and handling. No international orders, please. Only orders within the continental United States. All Lone Boy List members will be notified in advance and given priority. This will be the only chance to order these posters online this year.
I'm looking forward to the Paper Trail extravaganza this weekend and thank you to the event's founder and host, Tiny Roar Creative, for inviting me.