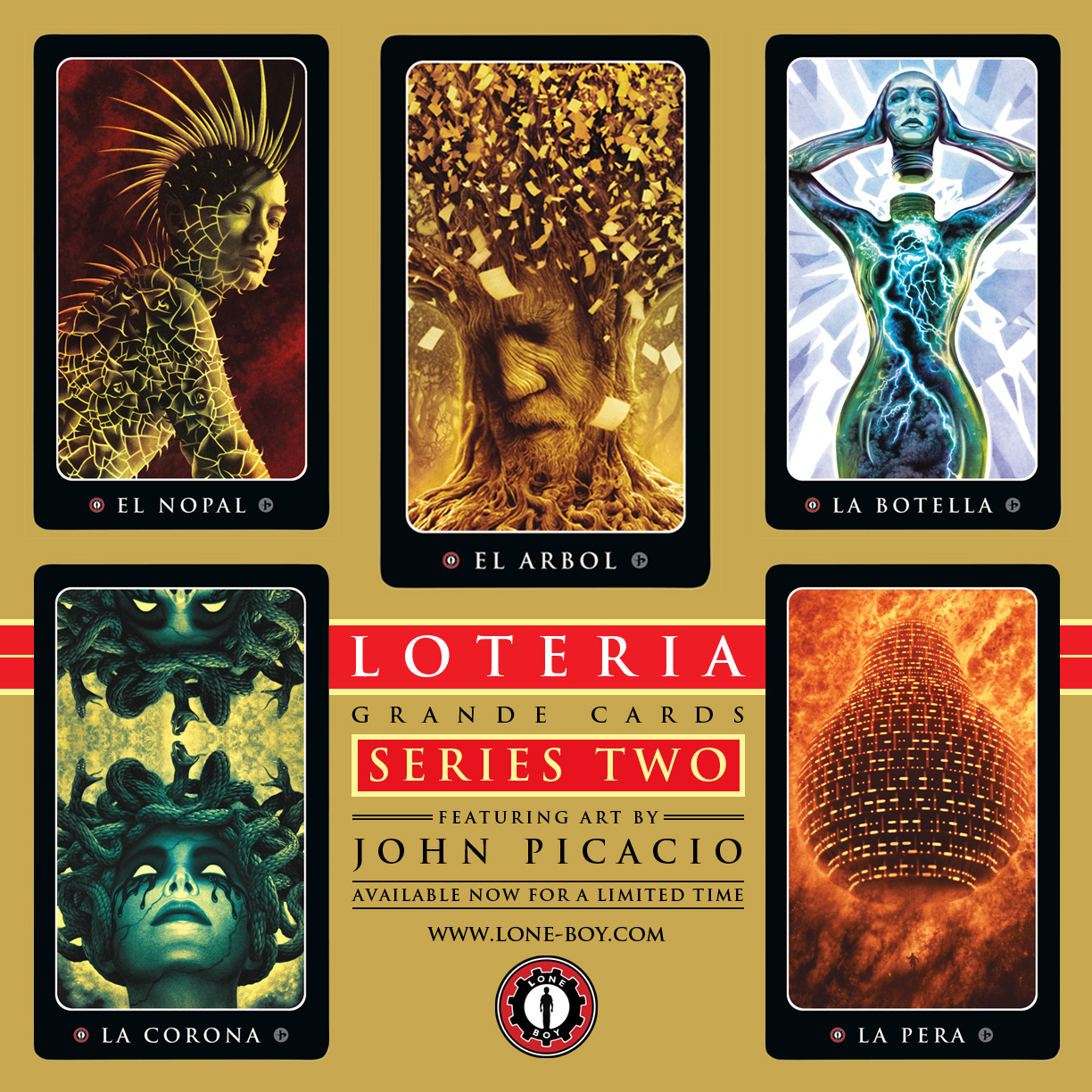 The new Loteria Grande Series Two Cards are now available online — for a very limited time! Included in this new deluxe five-card set are 'El Arbol' (The Tree), 'El Nopal' (The Cactus), 'La Botella' (The Bottle), 'La Corona' (The Crown) and 'La Pera' (The Pear), featuring my color artwork on the front and my final graphite drawing reproduced on the reverse. The cards measure a giant-size 4.5″ x 7.5″ and are printed on thick card stock. There will only be 1000 of these limited run sets produced — and they make a timely holiday gift for yourself or the art lovers in your life. 🙂
The Series One sets have completely sold out, and I expect these Series Two sets will as well. Advance sales have been brisk. IMPORTANT: The order window for these cards won't last long. Deadline to order is MONDAY, DECEMBER 5th at 11:59PM CST, when the online order window will be closed. I will then fulfill all orders at once and ship them out, in hopes that most everyone will receive in time for holiday gift-giving. Online ordering will be discontinued after the December 5th date.
Thanks to everyone who has already advance-ordered these and to all of the fans who grabbed up their packs when they debuted at Alamo City Comic Con. It was gratifying to see all of those happy faces. I'm working on Series Three right now, including artwork for 'El Gorrito' (The Bonnet), 'El Valiente' (The Valient One), 'La Mano' (The Hand) and more! All best to you and yours for the holiday season, and I look forward to fulfilling all of your card orders.
In Loteria We Trust.