I'm not a Tarot devotee, and yet I love Tarot decks. When they're done well, I can't get enough of their art, design and aesthetic. I collect my favorites. Tarot lore fascinates me. One of my dream jobs is to be paid good money to illustrate and design a mindblowingly cool Tarot deck that enchants true believers as well as true detectives.
This week, I've watched a lot of people commenting that my new Loteria Grande cards feel like Tarot objects in their proportion and design. Now the truth is Loteria Grandes aren't really Tarot cards in the strict sense (or even oracle cards, if you want to get down to it).
Loteria Grandes are designed not as playing cards, but special-edition collectibles that have a deluxe size that feels good in your hand, with a cool pencil drawing on the back. They won't be available for long though — and when they go poof and the supply is gone, cardowners will possess something unique that future collectors will covet, as we always do with cherished card decks. My Loteria work will then evolve to the next big stage. More on that next week though.
Today, let's do a Friday Fab Five, presenting a few of my favorite Tarot decks.
1) THE VERTIGO TAROT by Rachel Pollack and Dave McKean • (DC Comics)
This was the first Tarot deck I ever bought, and it's still one of the most gorgeous. I bought it when it first released back in the '90s, and it still holds up as an amazing art object. How can it not be, when Dave McKean is doing the art and design? Lately, I've been reading the set's companion hardcover with Rachel Pollack's texts and I still marvel at the way she wove the DC Universe into the constellation of Tarot.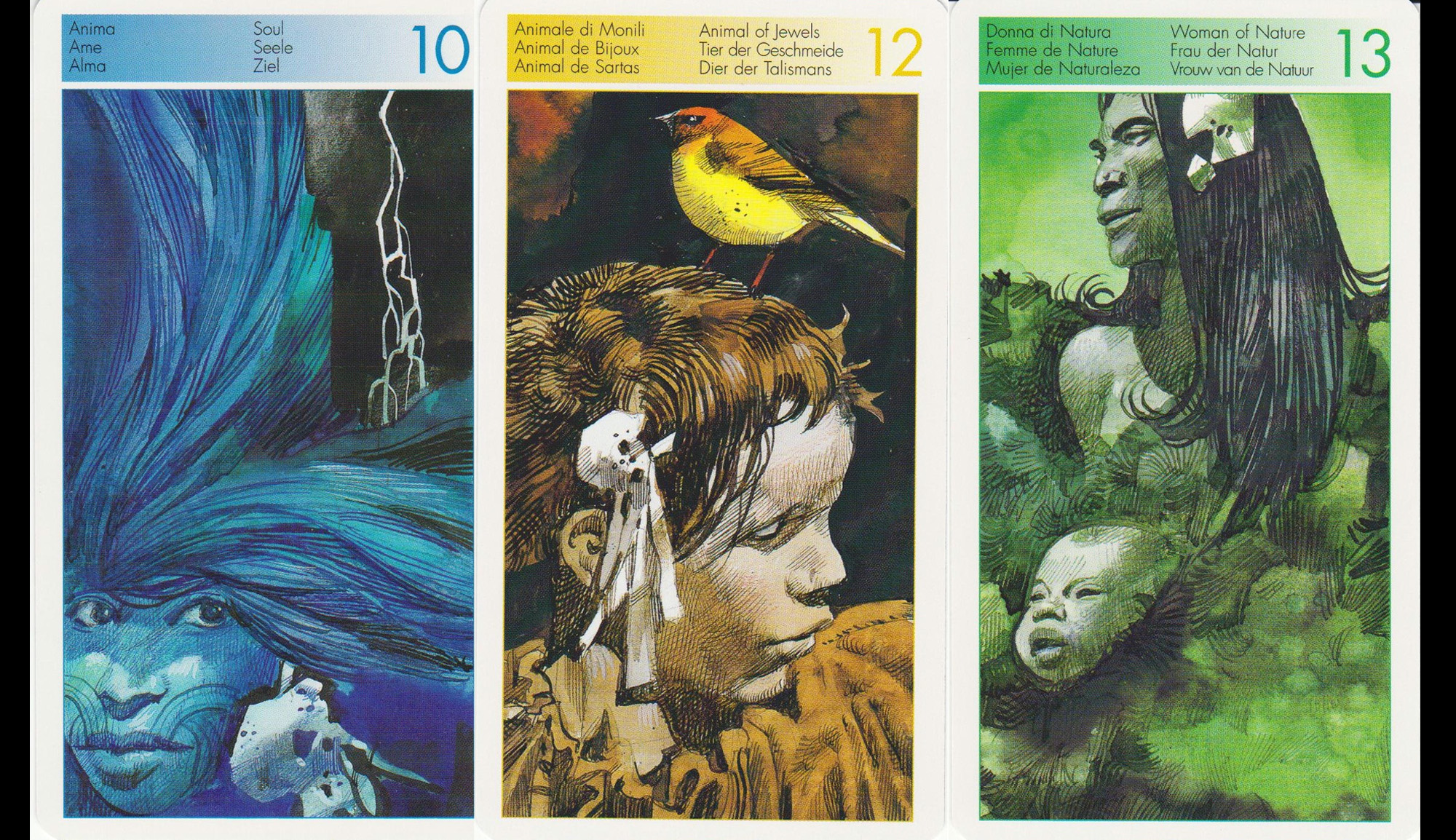 2) TAROT OF THE ORIGINS by Sergio Toppi • (Lo Scarabeo)
Let me just say that Toppi is one of my all-time favorite artists ever. I could do an entire post about how much I love his work. I don't own this Tarot deck because it's rather expensive and out-of-print, but I would love to get my hands on one. If someone has an extra, and wants to trade for a nice Loteria drawing plus a stack of Loteria Grande cards, gimme a holler. Instead I own a signed slipcased edition of the Italian monograph Tarocchi Delle Origini that contains the artwork from this deck, and every page is full of 'wow'. Toppi is such a master composer of positive and negative space. When I'm stuck inside my own compositional deadends, I look at Toppi and remember that there are so many beautiful ways to compose infinity within a rectangle.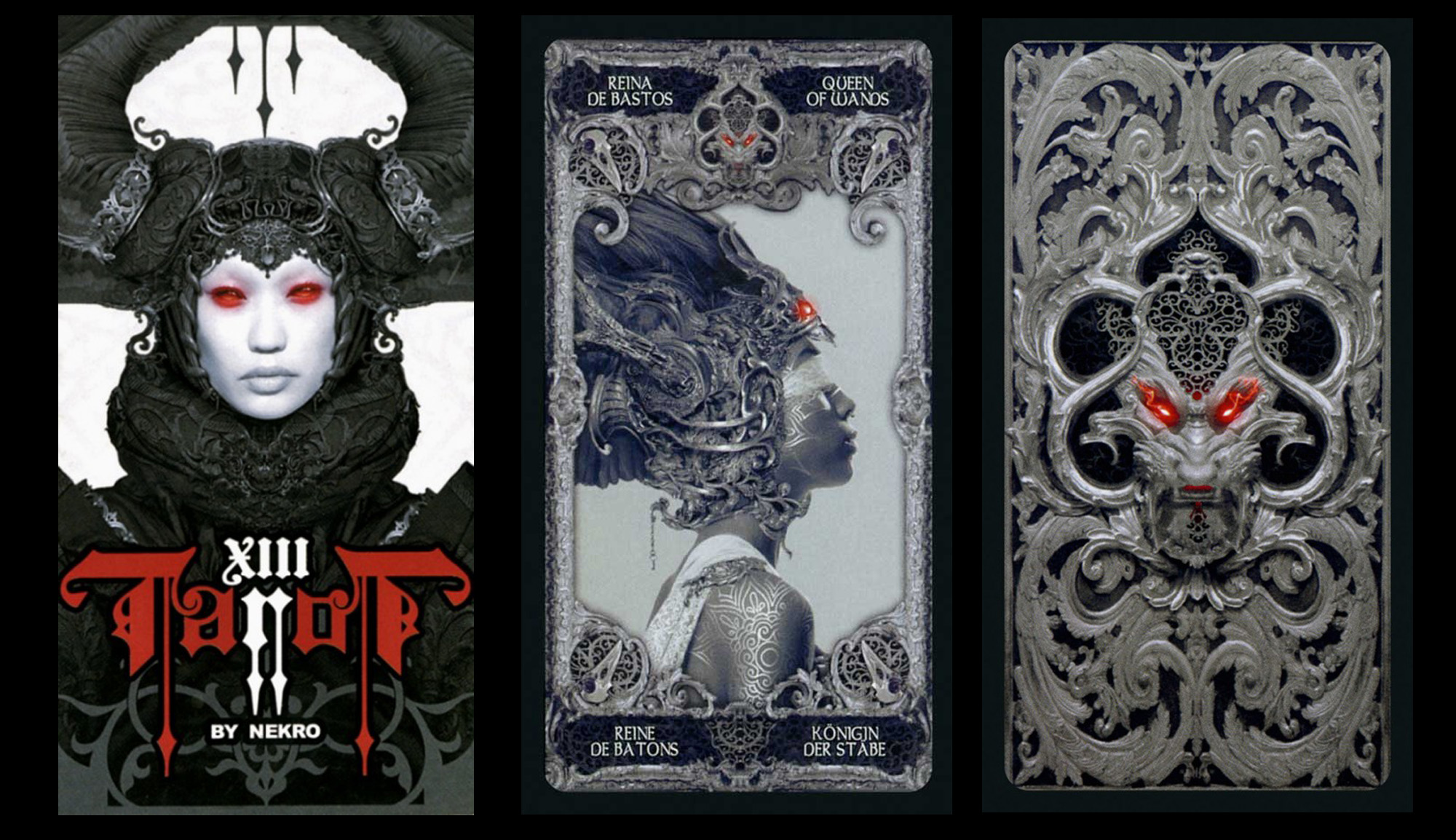 3) XIII TAROT by Nekro • (Fournier)
I found this set in NYC last fall, and even though I was familiar with Nekro's art, this is the body of work that made me say "I need to meet this guy someday." This deck is all about the desaturated color palette and touches of red that are Nekro's calling card, and the reason that doesn't get boring over 78 beats is because he's such an amazing character designer. My only complaint: holy cats — there is so much baroque goodness in Nekro's art that a tiny card does not show it to its full effect. I wish these cards were bigger. I wish I didn't feel like I was trying to defuse a bomb every time I open the awkwardly-tight tuck box, lest I rip the packaging and unleash sadness. Bottom line though — hats off to you, Nekro — your stuff blows me away every time, man.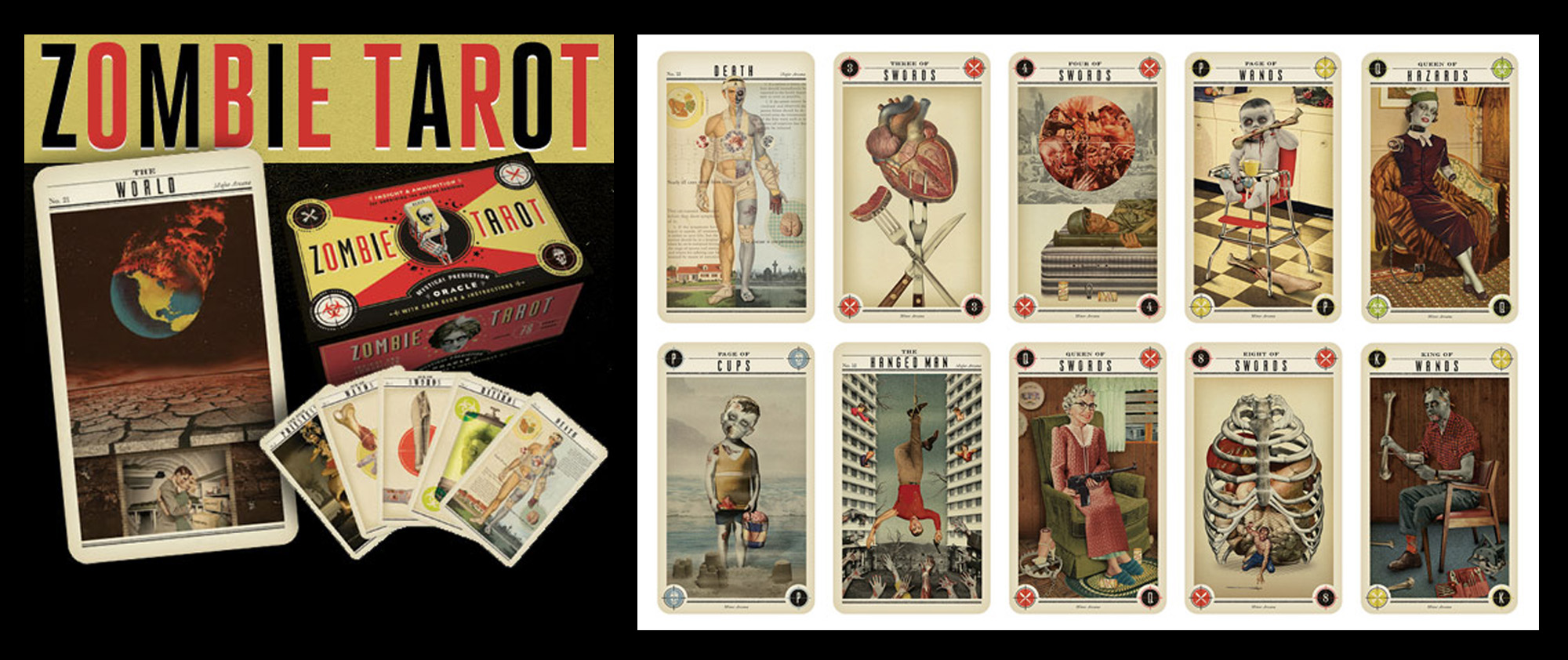 4) THE ZOMBIE TAROT: AN ORACLE OF THE UNDEAD by Paul Kepple and Stacey Graham • (Quirk Books)
If some of you are thinking, "Oyyyy, please not zombies. How are we not over the zombie thing yet?" — hey, I'm with you. Personally, I thought zombies jumped the shark back in 2005 with the Marvel Zombies series. And yet, ten years later, the zombies didn't go away because instead, the world around us turned into them. (A few of us are still holding out though. Back off, flesheaters…..)
And yet, I find this deck to be a box of undying genius. It's kitschy, smart, irreverent, and deadly beautiful in its design. Even after the Zombie Apocalypse is over (aim for the brain), this set will be a fave.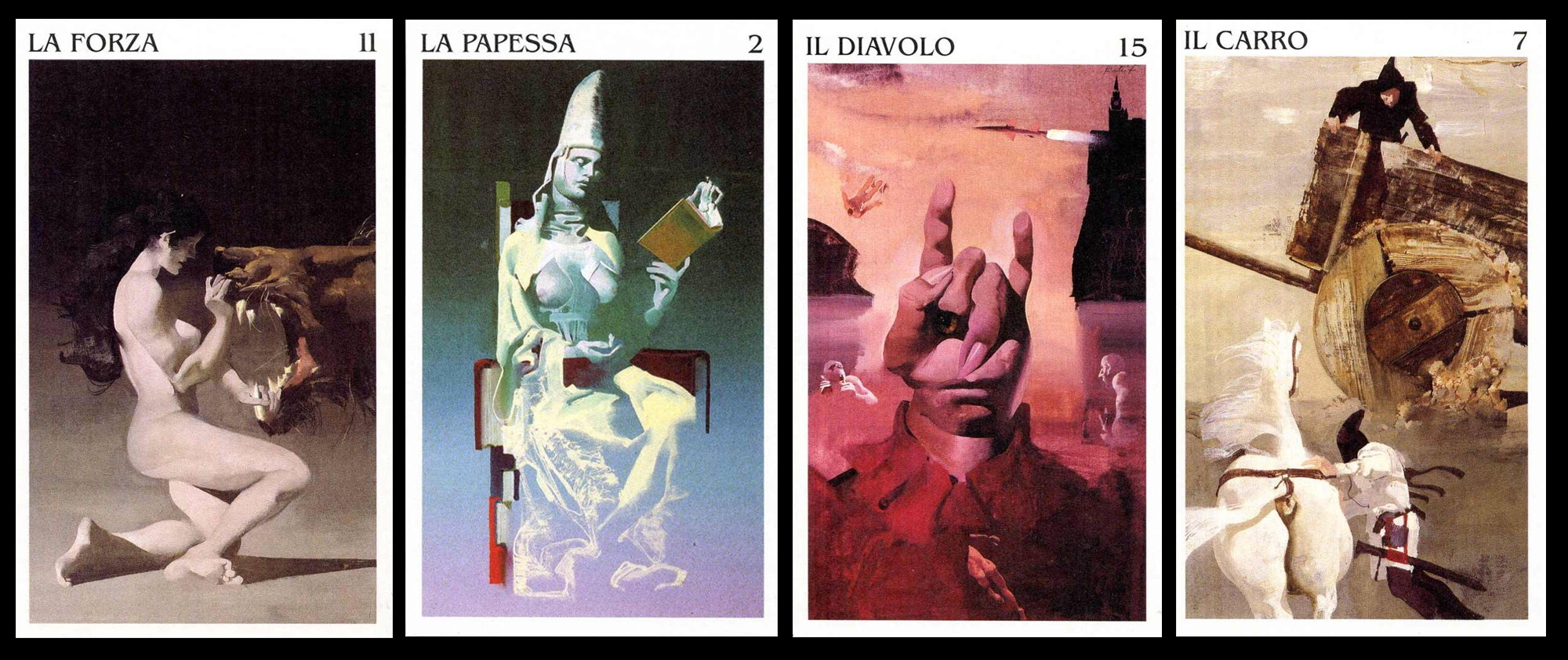 5) TAROT OF THE IMAGINATION by Ferenc Pinter • (L0 Scarabeo)
Thank you, Lo Scarabeo! Without you creating this set, I might not have known about the Italian painting master Ferenc Pinter. These cards are the first works I ever saw of his, and like Toppi, he's such a master of composition and color. Simple shapes. Complex ideas. I love that the Minor Arcana images are so non-traditional. He realizes that Tarot is a a fabulously pliable form that can absorb an immense amount of reinvention, and still be just as potent as the established formats — maybe even moreso. That inspires me to no end….
My first eleven Loteria Grande Cards are now available from Lone Boy, while supplies last! Free shipping within the US.
Next week: THE LOTERIA MATCH GAME (AKA "Which one of my pals is El Diablito? El Valiente? And the burning question, Who Is El Borracho?")